Home Theaters & Private Screening Room Ideas & Inspiration
February 13, 2021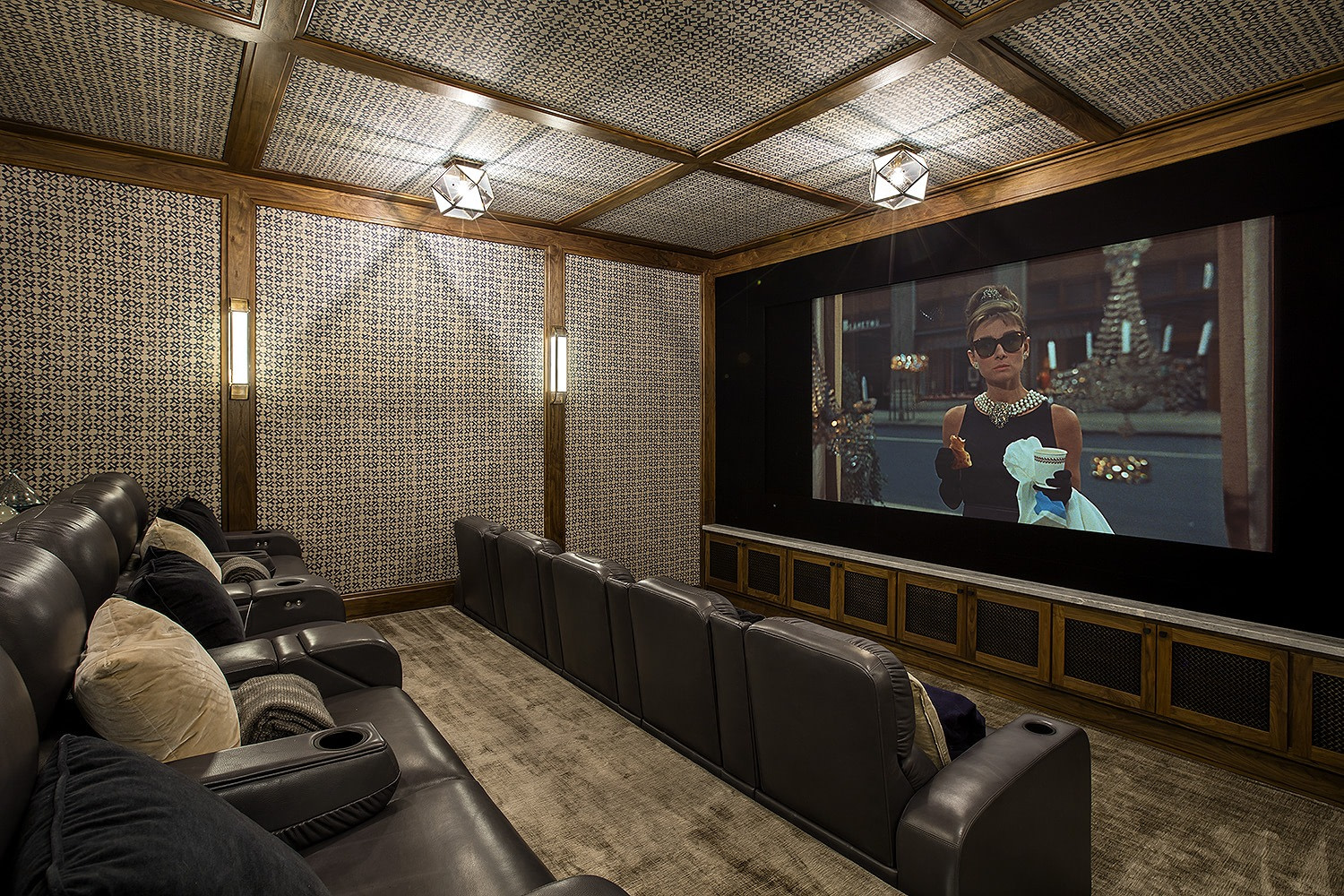 There is no better time than now to turn one of those extra rooms in your home into a screening room for your family.  A basement or even extra guest room can be transformed into one of your family's favorite spaces.  There are certainly some considerations when designing a home theater though that are unique to this type of room, so do your research before diving in and consult with a home theater specialist for all those technical details.  But in terms of the design, here are some ideas to get you inspired on the journey to creating your own private screening room.
Designing the Perfect Home Theater
While it is always safe to continue with the same style as the rest of the home when tackling a new project, this is one room that doesn't necessarily need to relate to the rest of the aesthetic of the home, so let your imagination run wild.  From a kitschy nod to grand theaters of a bygone era, to a futuristic space age vibe, or anything in between…the options are endless.  Whatever style you choose, the layout and major furniture pieces should be the starting point. For a room like this, the seating is really the only main furniture to figure out, so deciding how many people you plan to seat should be step one.  If you show real movie screenings, perhaps you want more traditional theater seats to fit more guests.  If this is more of a space for your family movie night, one huge Moroccan style custom sectional that covers the whole room could be a fun idea.  Alternately, a combination of love seats and lounge chairs is a great option to for more versatility.  If you have a large enough space consider including a bar area for snacks and drinks as well.
Consider Lighting & Sound
Acoustics are a major factor in a home theater, so it is important to keep that in mind when designing this space.  Even if the rest of your home has wood floors, it is a must for the theater to be carpeted.  If you hate the look of wall-to-wall carpet, you can add in throw rugs on top of the carpet too for a layered look.  Sound bounces off of walls and ceilings as well, so upholstered walls are a great way to minimize that noise and can add a beautiful texture and even pattern to the walls if you choose.  For a more modern look, acoustic panels can be mounted to the walls and ceiling instead.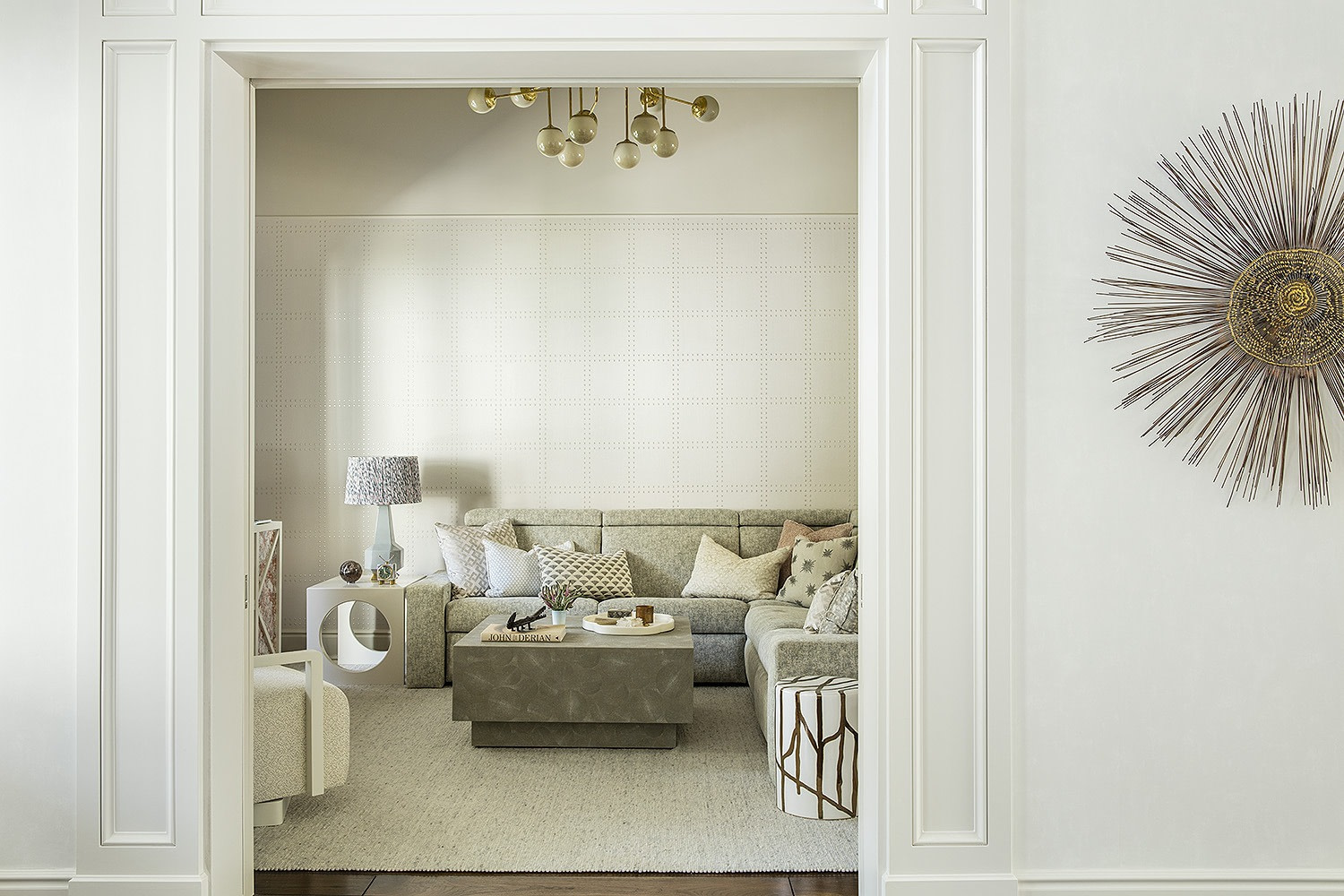 Lighting is another main consideration when designing this space, as it needs to be functional first and foremost, but don't worry it can also certainly still be attractive.  The more lighting options in the space the better, so you can achieve the perfect amount of darkness.  When selecting ceiling lights, keep in mind that you'll most likely need to go with flush mounts so that nothing is hanging down to block the screen.  Wall sconces are important as well as they can provide ambient light that can be kept on during the movie and also help to illuminate the walk-ways on the outer perimeter of the room. If you have steps in the room, also consider floor lighting so there are no accidents when it's dark.  Most importantly though, is to make sure ALL of the lights are on dimmer switches so you can get it just right!
Finishing Touches
After your main pieces are selected, it is the finishing touches that can really turn the room into a fun home theater experience.  Add in cozy blankets and throw pillows that you can keep in baskets or draped on individual seats; and be sure to get enough that everyone can get one.  This is also an opportunity to tie the design scheme together through color or pattern.  If you have room for a snack bar, consider a popcorn machine and candy jars and create the ultimate home theater experience for your family and friends.