Decorating Idea: Fabric Covered Rooms
July 11, 2020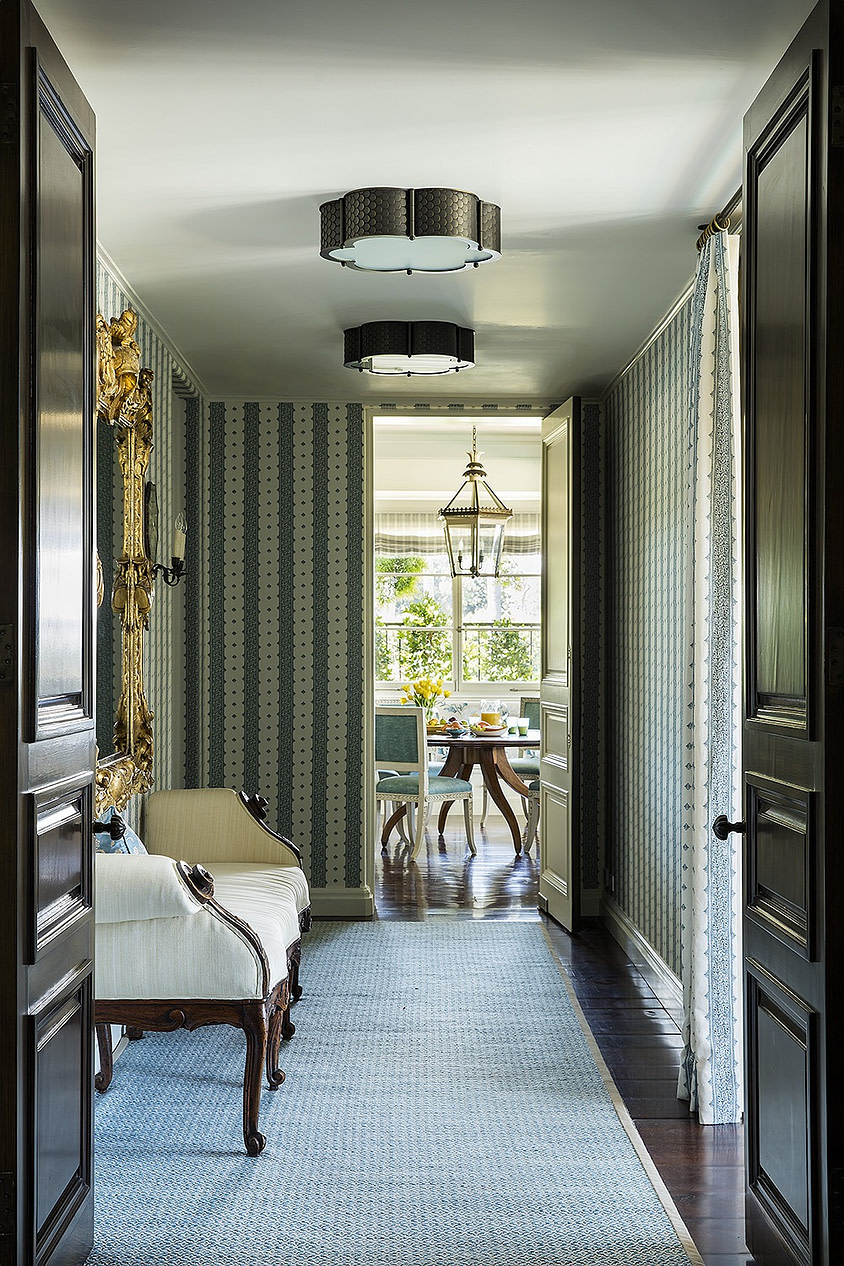 Fabric wallcovering's have been used for centuries with an old European lineage.  But this timeless style can be brought into the 21st century too and make for a very stylish room in your home, sure to draw attention.  For a style this bold, it's important to take various factors into consideration to successfully achieve the look and not end up with a disaster that you get sick of in a year's time.
Select the Main Fabric
First and foremost, you must decide the style that you are going for in the room.  Fabric wallcoverings can actually work with a variety of different aesthetics from bohemian, to preppy, to playful or sophisticated.  A solid velvet or leather for example would work beautifully in an office or library for a very sophisticated classic look.  Stripes can create a playful or preppy vibe great for bedrooms, kid's rooms or dens.  Floral fabrics can move between various styles like bohemian, preppy, or classic English.
Consider Mixing Patterns
You don't have to stick to just one fabric for the entire room either.  You can do one pattern on the walls, and a different pattern on the ceiling for example.  Or add in a different pattern on the window coverings that creates a very layered look.  Or simply mix in other patterns throughout the upholstered pieces in the room.  Just be sure that the patterns are in the same color story or complementary colors and that the scale of the patterns work together.  They should be on different scales to create a contrast.  Alternately, opt for the "go big or go home" styling choice and use the same fabric for the walls, window coverings and bed for a luxe and really impactful look.  If you are deciding to mix patterns, make sure that the colors and scale work well together, though.
Upholstered Walls vs. Wallpaper
Upholstered walls, meaning there is padding behind the fabric, have a thick or puffy nature to them.  They can be tufted or upholstered in separate panels divided by wood molding.  It is a very traditional style and works well for a boudoir, bedroom or even office.  Fabric can also be paper- backed though so as to turn it into a flat wallpaper.  This will create a much thinner profile and works well in other rooms such as powder or dining rooms.
How to Select Furniture
Be sure to keep to simpler finishes on the furniture in the room that will pop off of the wallcovering.  Natural wood tones or painted lacquered wood work well.  More textured finishes like raffia or tufted upholstered pieces can overwhelm the room and start to look thick and cluttered.  Stick to simpler profiles too so you can let the wallcovering be the star of the show.