Christine Markatos Design Spotlight: Nightstand Ideas & Inspiration
July 10, 2020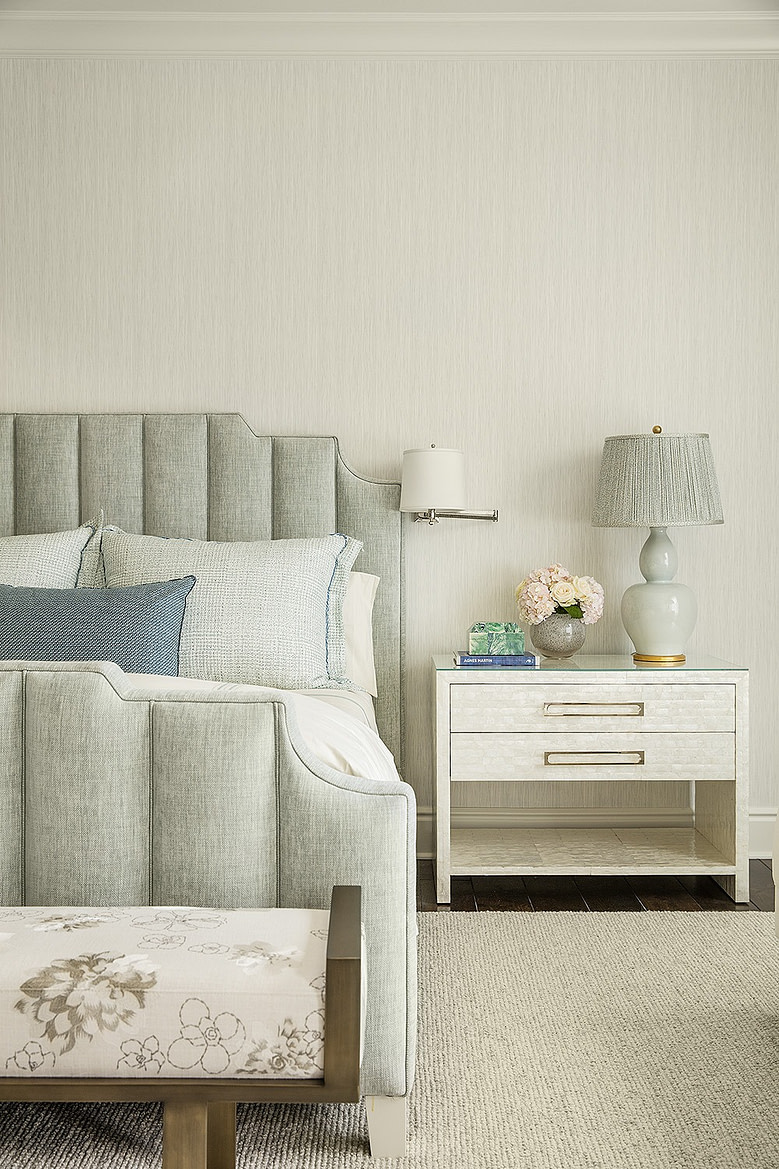 Nightstands are an overlooked furnishing in a bedroom design.  They are the anchors for the bed which would be otherwise floating in the room and should suit your needs while adding to your overall décor scheme. Since they are such personal pieces in the room, it is important to consider a variety of factors to ensure you create the perfect nightstand for you.
Function & Style
An important consideration when deciding the type of nightstand that works best for your needs is if you need a lot of personal items by your bedside; like reading glasses, lotion, books, remote controls, etc. If you are a more minimal person, one small drawer might be fine, but if you are someone who needs more storage you should look for a piece with multiple drawers and/or shelves. If you are a messy or organized person will also determine if you need all of the storage to be concealed as to hide the clutter. Another important factor often overlooked is the nightstand height and proportion to the bed, which should be the same height that the mattress finishes at with bedding, and the proper scale for the bed and room size.  
When it comes to style, it should relate to the rest of the room décor. If you have a funkier aesthetic, they can be mismatched antique pieces – though they should still roughly be the same size to keep the room balanced. If you are more traditional, a set of matching nightstands is probably more up your alley. Just take into account the other pieces in the room, particularly the bed style and finish to be sure it relates.
Start with a Lamp
A lamp is the anchoring piece on a nightstand so it is a good place to begin when styling. First of all, you should determine if it needs to provide enough direct light for reading, or can be more ambient lighting if you have secondary reading sconces. The scale is also important to consider as it should leave ample room on the surface for other items and also not exceed the height of your headboard. For a more traditional look, a ceramic lamp with a shirred lampshade is a great choice or an antique lamp that you get a new shade for. For a more modern look, consider a metal task lamp or even hang a pendant from above that hovers over the nightstand.
Layer Objects & Artwork
As we mentioned, the nightstand is a very personal space within your home that is just for you, so make sure you fill it with things you love and that bring you joy when you wake up in the morning or provide peace at the end of the night. Lean a favorite small piece of artwork against the wall, or hung above and don't worry if your lamp or other items cover it slightly as it just creates layers; or add a framed photo of your family. Other objects to consider are small tray or little box for rings or hair ties; a candle or diffuser; and a vase for fresh flowers to fill your room with a fresh scent.
Add your Favorite Books
For many of us, our daily reading time happens in bed at night when we have time to ourselves, so be sure to create space for books at your bedside table. A shelf underneath is often a good place to store books, or for a more casual look you can create a pile of your current reads on the top to create height and a layered look as long as you have the surface space to work with. The point is you want them easily accessible so you can grab your favorite book whenever you get the chance.